SUSTAINABILITY 4R: REDUCE, REUSE, RECYCLE, REPAIR.
We all know that production of clothes affects the climate and the environment. Therefore Isbjörn of Sweden is making high quality clothing that last a long time. In our company we constantly strive to make more environmentally friendly clothes. We are happy and proud for every new garment we can make in more sustainable materials and with more environmentally friendly production methods. To visualise our environmental work we use the 4 R's Reduce, Reuse, Repair, Recycle as our guiding star. We want to inspire you to think the same way.
REDUCE:
By REDUCING the amount products that we use we reduce the environmental impact. Less consumption means less production – which results in less pollution, less waste, fewer transports. This is how we contribute:
We encourage the customer make informed choices and buy the right product.
We encourage the customer to buy fewer products and use them more. By utilising Isbjörn of Sweden's layer technique, base, middle, shell the clothing is flexible and adaptable to different weather conditions and seasons.
Our high quality clothing also reduces the frequency the consumers need to buy new, which results in less environmental impact.
Our design is functional and clean with no unnecessary decorations, which use resources and energy.
REUSE:
When we REUSE the clothing that already exists we eliminate the strain that new production causes the planet. This is what we do:
The Isbjörn of Sweden clothing is designed for being reused.
We encourage consumers to reuse the clothes.
Isbjörn of Sweden clothing has a high second hand value, if you cannot use the clothing yourself make sure you give it to someone else or sell it on the second hand market.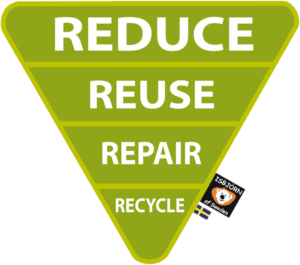 REPAIR:
REPAIRING a product avoids it being discarded for a minor failure and having to be replaced by a new. This is what we do:
As much as possible we try and design products that are possible to repair.
We offer our customers repair if a garment for some reason would fail.
RECYCLE :
To RECYCLE products is a last resort as it is a lot more environmentally friendly to reuse existing products. However all products has a lifetime and when they are no longer possible to use in their current form some materials can be recycled. It is a significant environmental gain in recycling compared to using new resources. This is what we do:
We use recycled materials whenever it is possible in the designs.
In the future we will also introduce recyclable garments in our collection.